"The Beat" Goes On
At Former AAHS Stations
Posted February 22, 1998
In the immortal words of Jerry Seinfeld, "...But I don't wanna be a pirate!"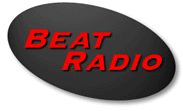 And from those words comes one of the more intriguing twists of fate ever in radio: an illegal pirate broadcaster, driven off the air by the government, rises from the ashes and returns to the air. Legally.
And on a network of stations that covers several of the nation's largest markets.
BEAT RADIO ON CBC
Chicago: WAUR/930
Dallas-Ft. Worth: KAHZ/1360
Denver: KKYD/1340
Detroit: WCAR/1090
Kansas City: KCAZ/1480
Los Angeles: KPLS/830
Minneapolis-St. Paul: WWTC/1280
New York City: WJDM/1660
Philadelphia: WPWA/1590
Phoenix: KIDR/740
That's what has happened in Minneapolis, where former pirate station "Beat Radio" (97.7 FM) – removed from the ether by the FCC in 1996 – has returned to the airwaves via the former Childrens Broadcasting Corporation "Radio AAHS" stations.
Broadcasting a dance music format for twelve hours daily (6 p.m.-6 a.m. Central), Beat Radio had originally been on the air, unlicensed, for only 103 days before the FCC seized its equipment in November 1996. It returned to the air on community station KFAI (90.3/106.7 FM) for three hours a week a year later.
While Beat Radio enjoys its revival, CBC continues to seek buyers for the fourteen stations it still owns and operates. CBC chairman Christopher Dahl announced on February 19 that agreements to sell seven of the stations to three different owners had been reached, with potential buyers for the remaining seven stations waiting in the wings.
An announcement identifying the buyers is expected by mid-March.